Entrance Matting (More)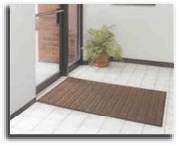 Placed inside and outside doors to save slip & trip accidents, protect floors and carpets, keep floors cleaner, enhance appearance, reduce claims & insurance liabilities, reduce cleaning costs.

Chevron, Poly-nib, Arrowtrax, BrushStep, Aquatrap, Fingertip. Other matting types are available.
Anti-fatigue Matting (More)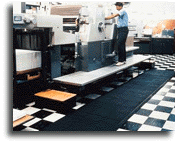 Reduce pain and fatigue in the work place, prevent accidents at work locations, improve worker productivity, meet "duty of care", reduce compensation claims and compensation premium increases.

Cushion Ease Regular & Solid, Comfort Zone, Comfort King, Diamond Plate. Other types of mat are available.
Anti-slip Matting (More)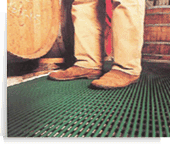 Prevent slip accidents, reduce compensation claims & compensation premiun increases, reduce insurance liability. These mats also provide a certain level of muscular comfort.

Vynagrip, Heronair, Crossgrip, Rubber Runners, Scraper, Fridge & Freezer mats.
Comfort Promoting Matting (More)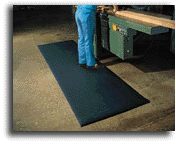 There is a need to insulate workers from the cold floors and provide a work place where it is comfortable to stand. These mats provide that and in doing so improve productivity and reduce pain and fatigue.
EZ Step, Tile top, Bubble Mat.
Safety Message Mats
(Contact us)
Enhance safety awareness, keep floors cleaner.

"No Smoking", "Safety Starts Here", "Stop Think", "Watch Your Step"
Clean Room Dust Removal (Contact us)
Keep dust out of sterile & clean areas, 60 layers of mat to strip for renewal.

Clean Step - Multi-layer Adhesive Mat
Static dissipating, switchboard and other insulating mats (Contact us)
Polypropylene faced mats, Ribbed mats & Anti-fatigue mats.

Various types of matting are available.
Sundry (Contact us)
Chairmats, Bedside comfort & incontinence, softer entrance mats, adhesive anti-slip tapes.

Vinyl chairmats, Wonder Pro incontinence mats, Poly Pro incontinence mats etc.